"Inspired by the four seasons."
"Inspired by the love of nature."
Colored pencil
"Artwork is my escape from the harsh reality of prison life and the PTSD acquired from six years of color deprivation and insanely noisy isolation. Due to the lack of love and peace I have produced hundreds of pieces of art and have never sold any. Reproductions of Picasso (70), Matisse (20), Gauguin (25), Hiroshige (20), Van Gogh (12) and over 100 modern artists. Only six original works. Studied Art History at Penn State."
Oil pastel on paper
"As a long term meditator, this is the feeling at 3:00AM, behind closed eyes in a place that exists in spite of the noise."
Jeffery, La Bailarina (The Dancer)
Colored pencil and pastel
"I am fascinated by the beauty and pageantry of these incredible dancers and the passion of their dance. This is the first in a series of works that will focus on various styles of Latin dance."
Colored pencil and pastel
"I am disturbed and saddened by the recent rise in racial tension in the U.S.A. I don't understand why, in the melting pot that is the United States, people of color are regarded with so much fear and suspicion. It doesn't feel like our country is moving toward anything that resembles "greatness." I'm using this gift God has given me to speak against the injustice of racial profiling and hoping that this piece will inspire a healthy open dialogue."
Graphite
"The joys from creating art came early on in my life. Besides a few basic art classes in middle school and high school, I am mostly self-taught. My development came by studying art books, imitating great artistic works and constantly sharpening my skills. I enjoy the challenges of being an artist. By patiently striving to overcome challenges, I seek to find success both in art and in life. I am interested in the human form, faces and figures. Emotions, expressions, experiences are elements used when designing my work. In order to truly move forward as an artist, I must persevere. To strive, to seek, to find, and not to yield."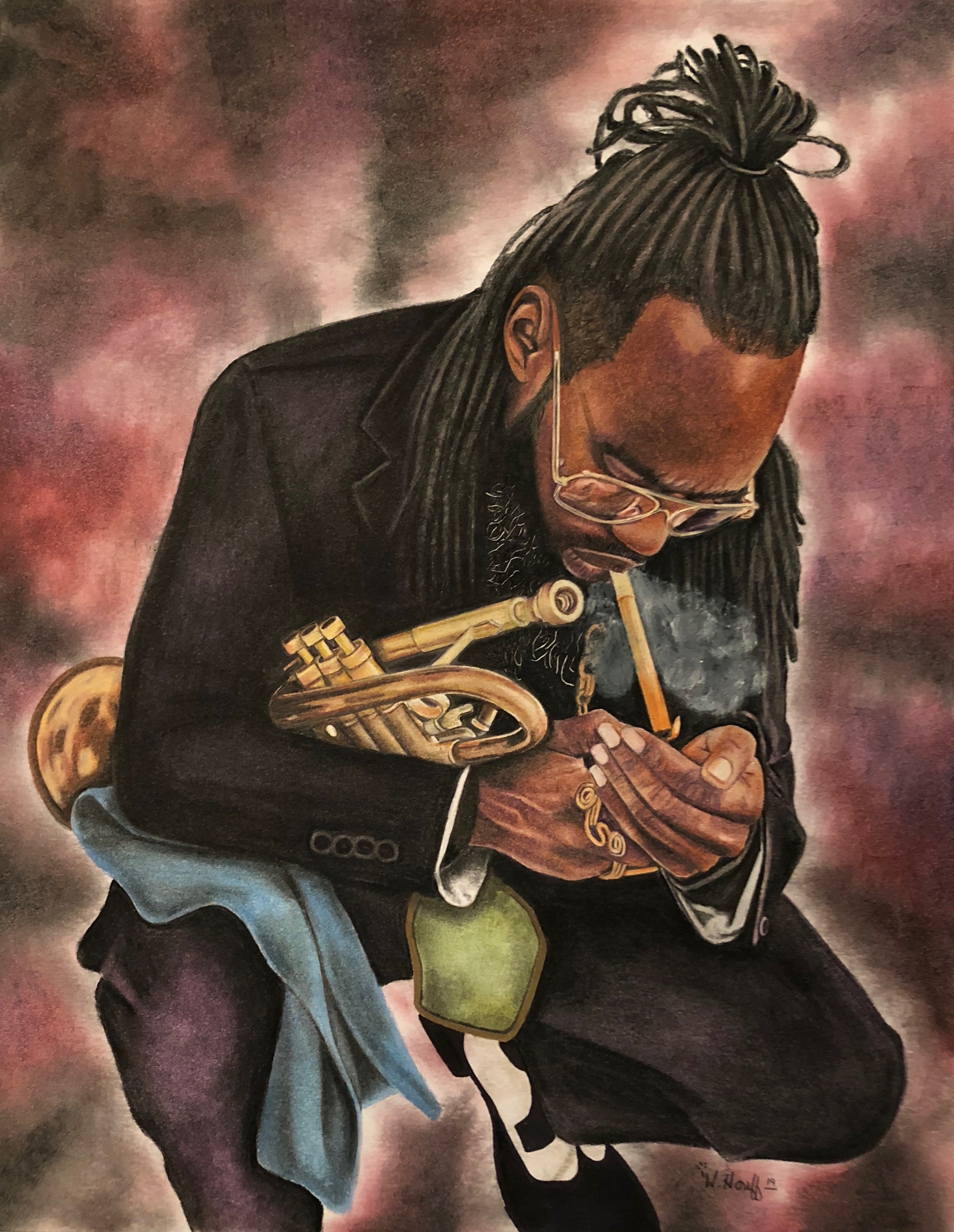 Wayne, For the Love of Jazz
Colored pencil on vellum
"Art has been a constant companion for me over the last 20+ years. It allows me an opporunity on a daily basis, to spend some time alone in contemplation and introspection; it allows me a respite in the storm of chaos that sometimes swirls in the place of the forgotten. Secondly, it allows me an opportunity to make a connection with the people who take the time to stop and enjoy something I have created. If anything I have l created offers both the viewer and myself joy then the piece has accomplished what it was meant to."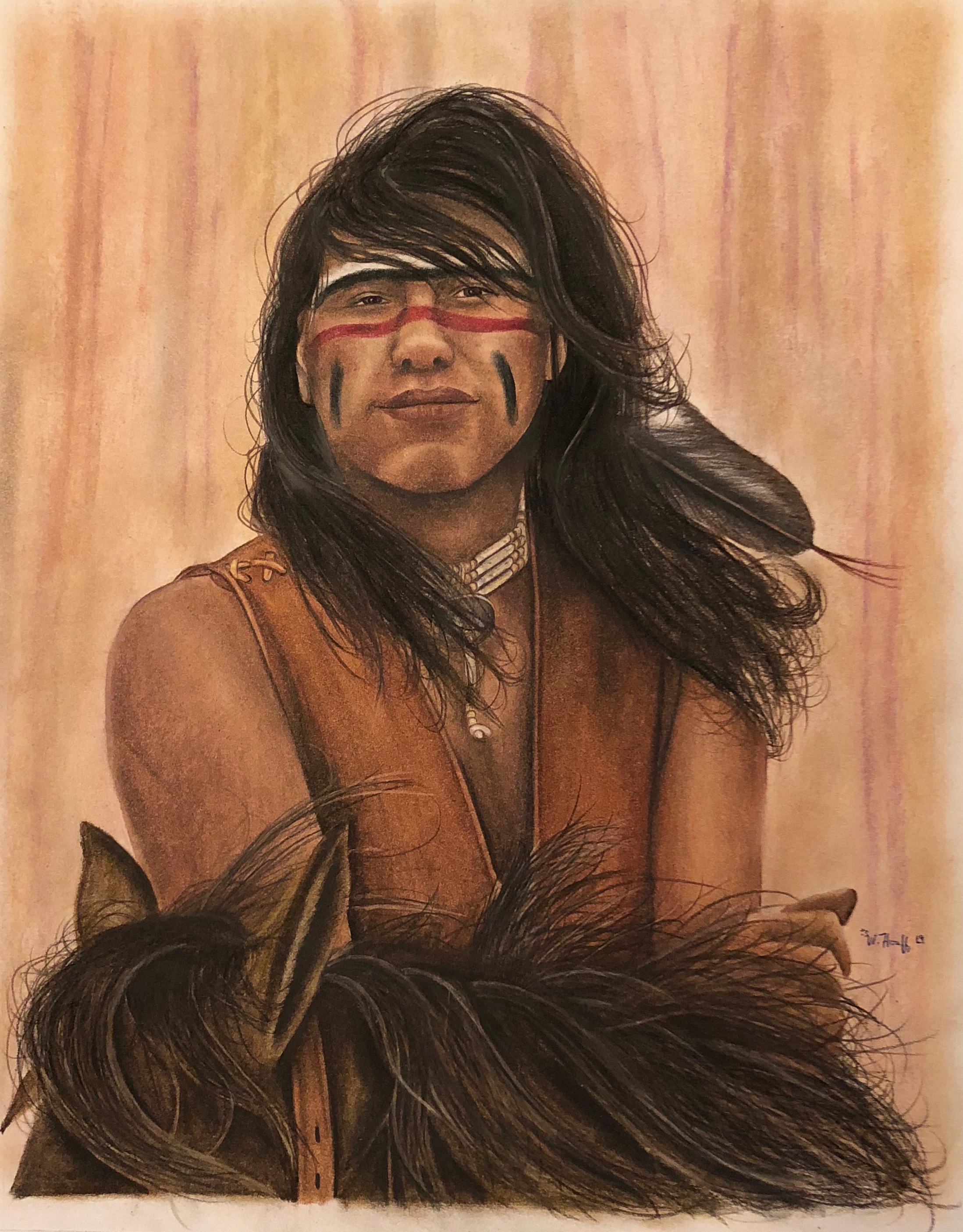 Colored pencil on vellum
"Time spent in my art world is time that I am able to leave the present and get lost in whatever world I am creating at the time, whether it be on some far away planet or another century here in this piece. There is nothing like the feeling of lying in a field of switch grass blowing in the breeze under a large oak tree as Red Wolf pauses long enough to squint down through the bright sun at me wondering if I am worth the time and effort to investigate further."
Mixed media
"I started drawing in 2007. Never had any prior teaching. I saw my friends drawing one day, so asked if I could join them. Just started mixed media about two years ago. It's real nice to see what color does to a picture."
Miguel, Chains of Liberty
"Cuando dibúse estas piezas de arte, solo estaba imaginando en lo bello de la naturaleza y en la libertad que existe en todo.
My name is Miguel and I'm one of many artists at Oregon State Penitentiary. I'm very happy to be able to share a little bit of my talent with you! The majority of my art is inspired by the beauty of nature, and when I draw, my imagination goes beyond these walls. After thirteen years in prison, my love for drawing has allowed me to maintain a healthy mind and to have a positive outlook, and with the ilusion to be able to create new things every day. My desire is that you enjoy these pieces of art and I hope to continue sharing more of my talent with you in the near future.
May God bless you.
With much respect,
Miguel."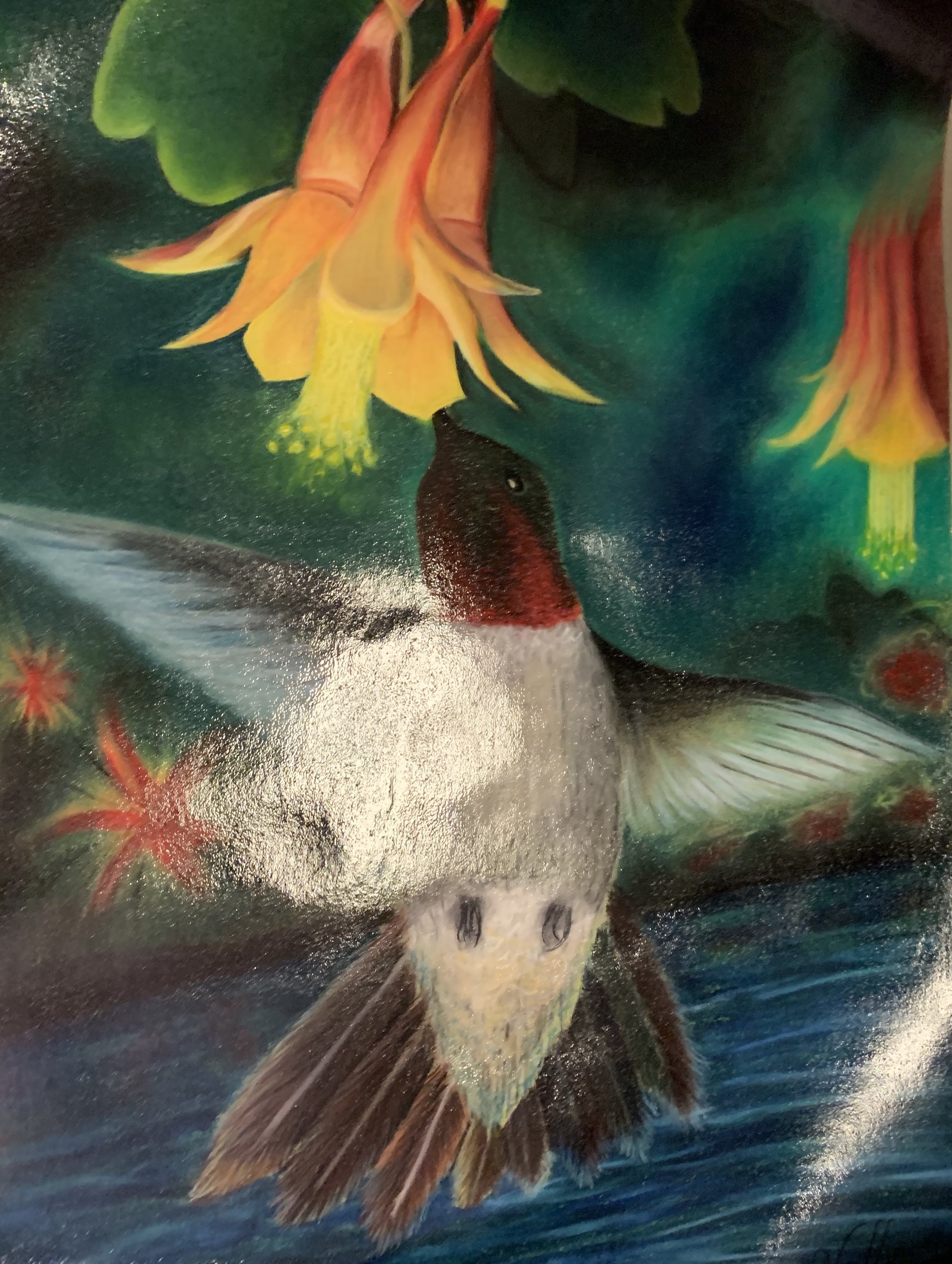 Airbrush
"The people who are descended from Mexico or Mexican parents should always be proud to be from such a beautiful culture. As we modernize and evolve to this society never forget who and where you come from."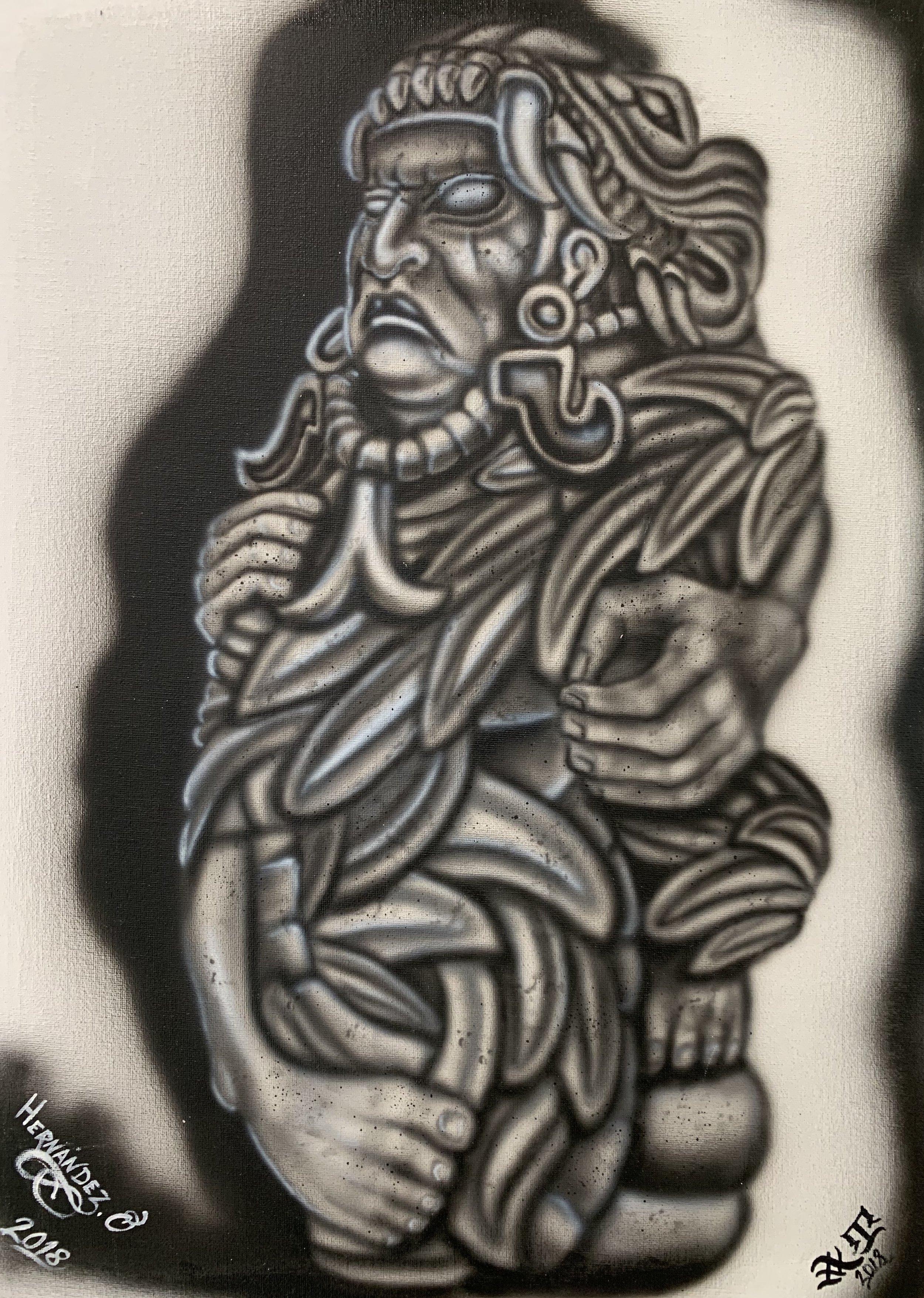 Julio, Quetzalcoatl - Aztec Figure
Alex, La Vida Loka, Till Death Do Us Part
Pastel, charcoal and graphite
"Many of my paintings focus on the beauty of creation, centering on wildlife, landscapes, and portraits. Birds hold a fascination for me, both as creatures of beauty and as symbols of freedom. By using design, light and color, I bring the viewer in to let them experience what I see.
I am a self-taught artist who has been creating art for the last 16 years. My artwork continues to be influenced by my University of Oregon bachelor's degree in general social science with an emphasis in law, crime, and society. My studies focused on many social problems, including mass incarceration, inequality, poverty, and racial issues. Even though some of these themes are very hard for me to paint because of my past experiences, they are important to express so that others may see some of the injustices present in our society."
Blue pen on paper
"From a variety of comic books."
Blue pen on paper
"From a variety of comic books."
Blue pen on paper
"From a variety of comic books."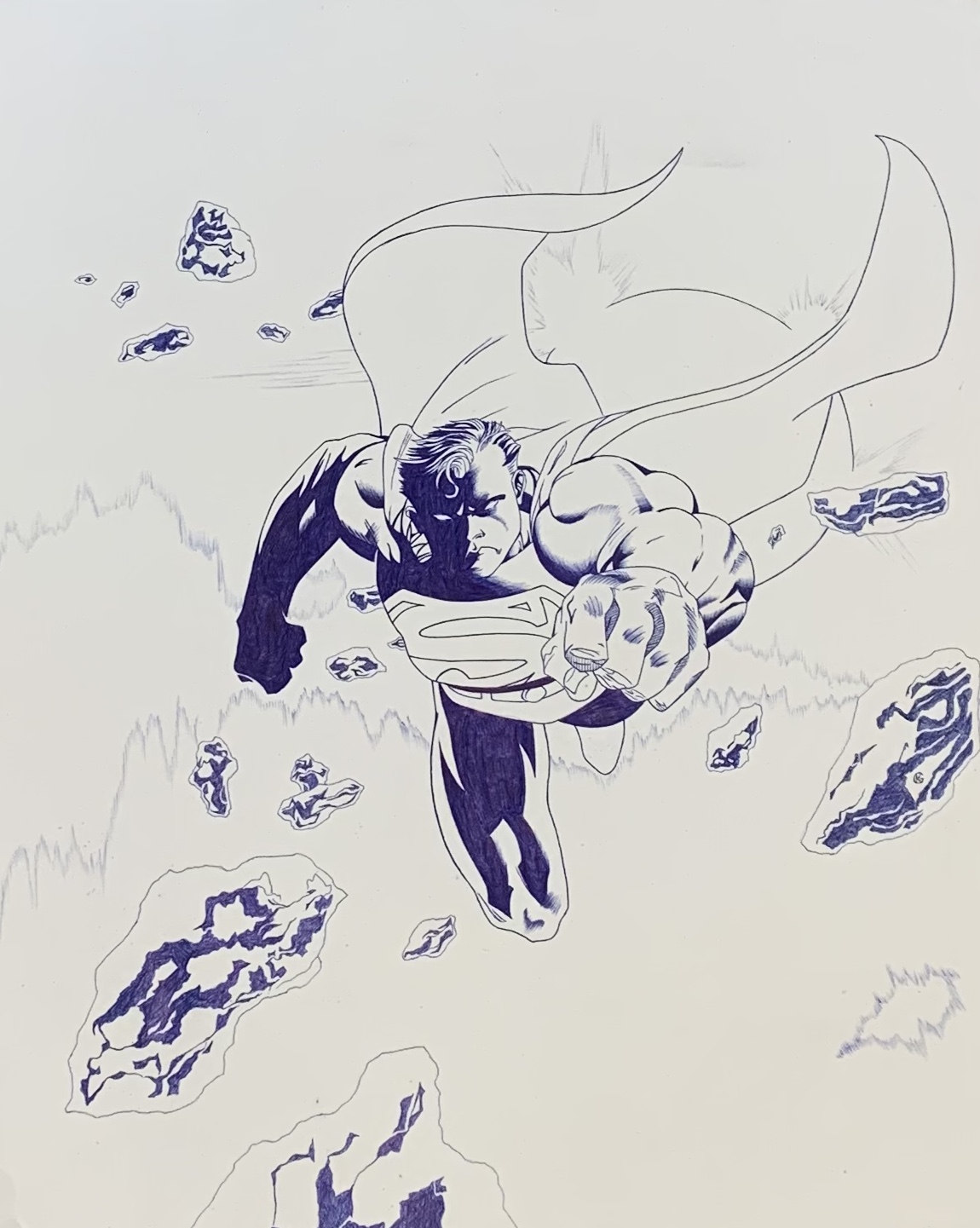 Blue pen on paper
"From a variety of comic books."
Blue pen on paper
"From a variety of comic books."
Ricardo, Flores para Mama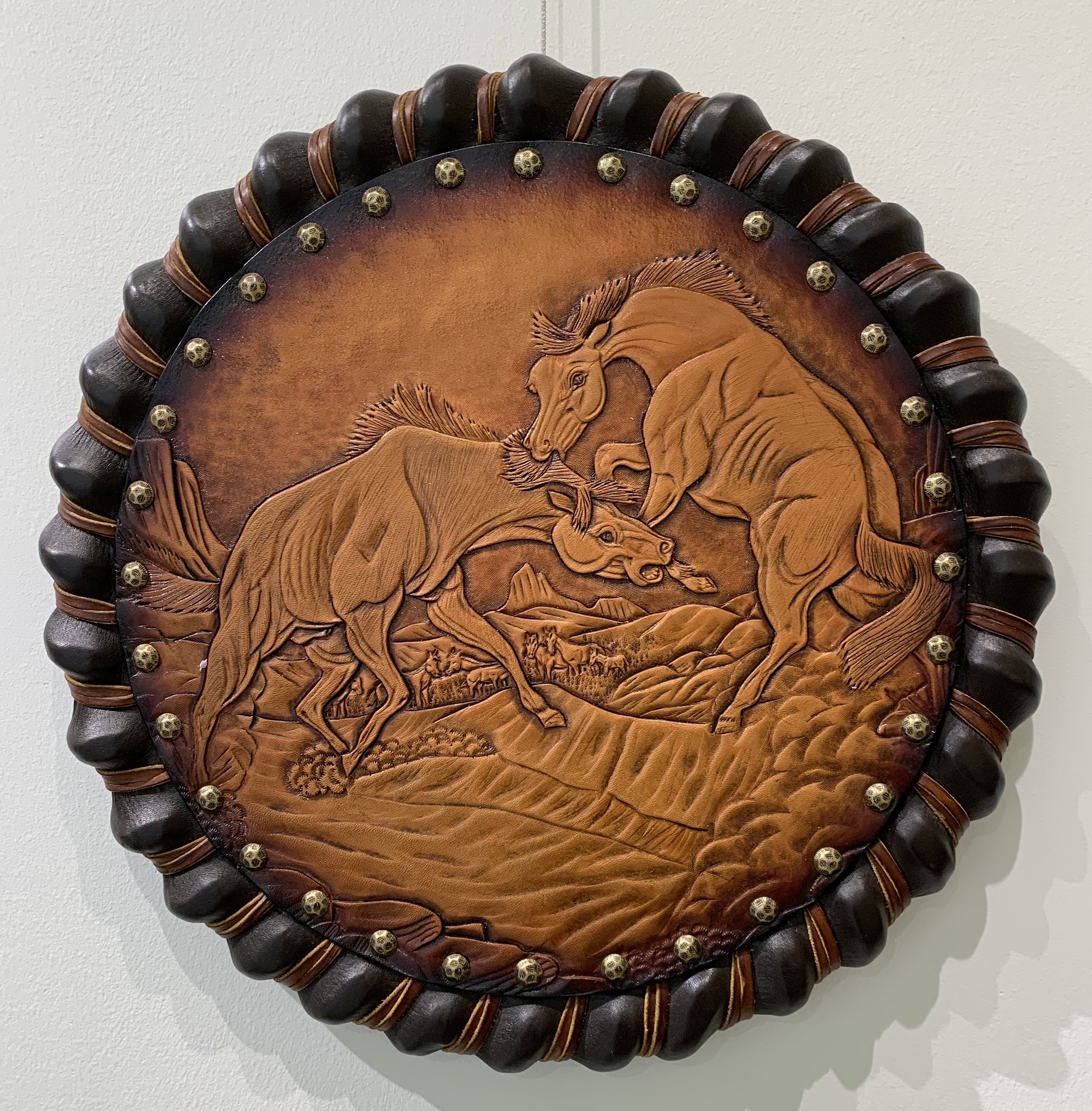 Carved leather
"Ron has done leather art and crafts for the past three decades."
Carved soap purchased from the canteen
"I was self taught and inspired by my life circumstances within my environment."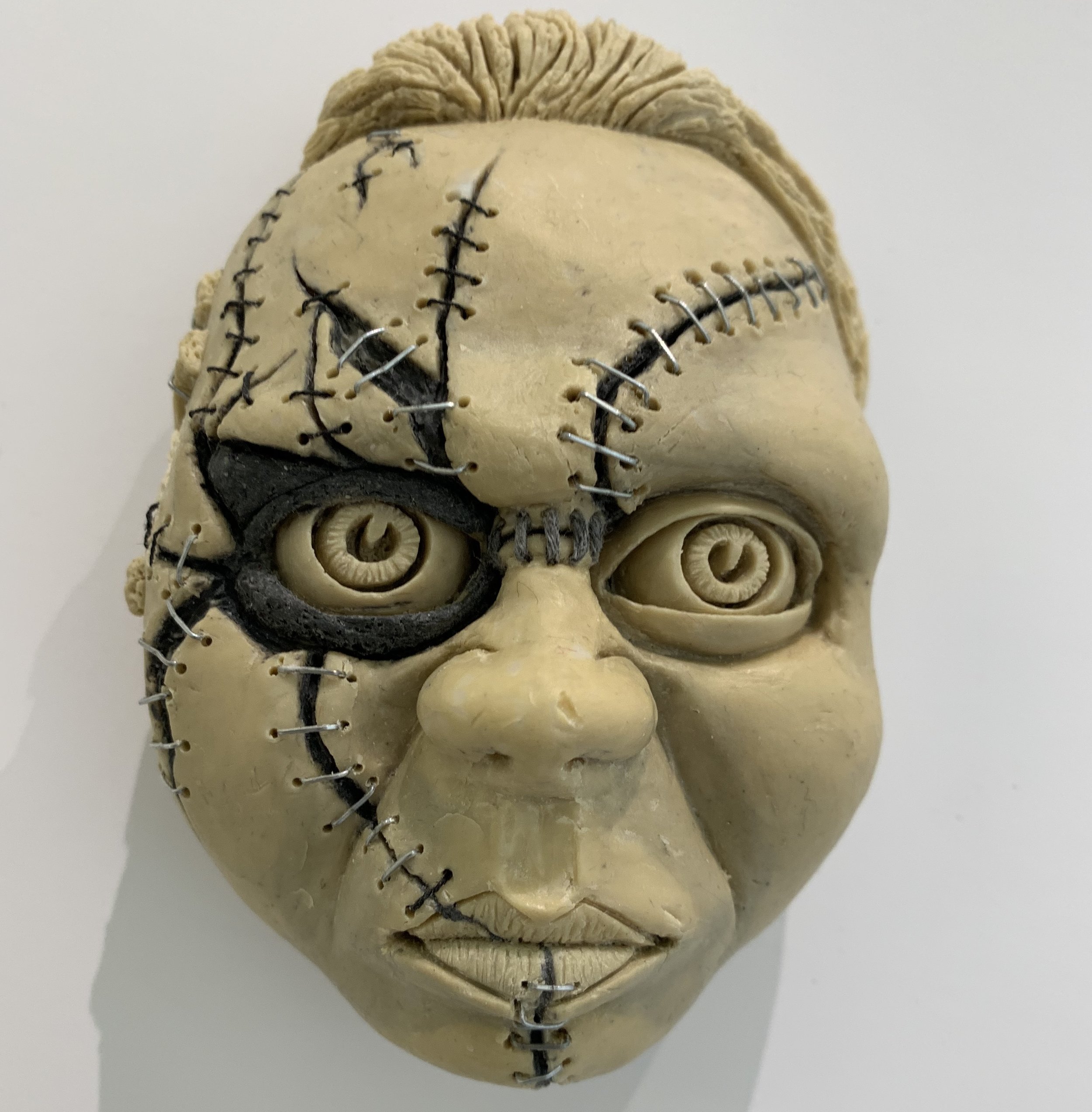 Carved soap purchased from the canteen
"I was self taught and inspired by my life circumstances within my environment."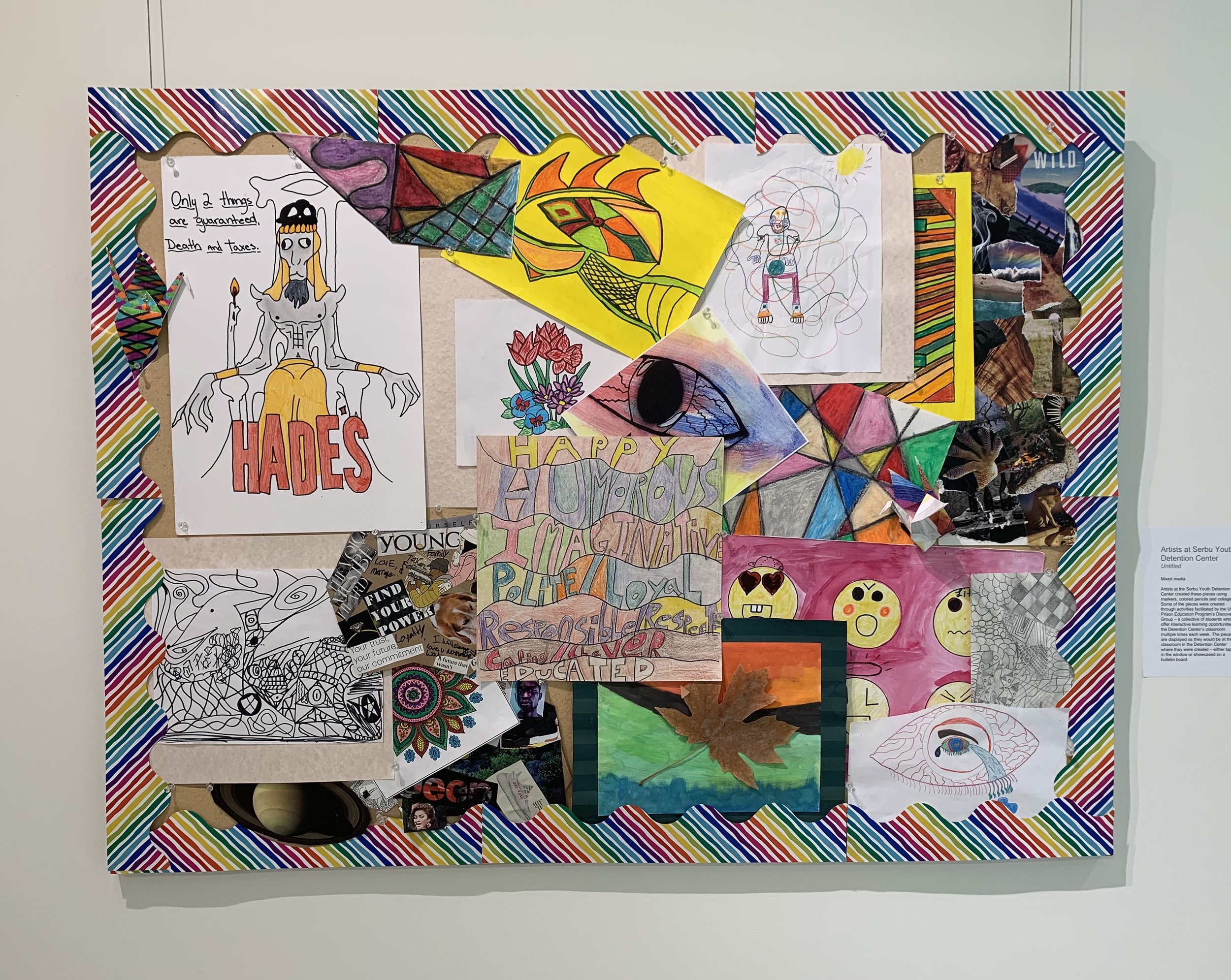 Artists at Serbu Youth Detention Center, Untitled